My neighbor told me I should separate them. Members of this gardening community advised separating but I resisted because I was afraid I'd get no flowers ever again. It took them being trampled on for me to come to my senses and see that the plant was too big, unwieldy and crowded. Last fall me and The Boy dug it up, chopped it into many, many pieces, gave the majority of them away and planted the old, original root (I figured we keep two of the younger pieces but The Boy insisted on keeping the original and since he was doing most of the physical labor. . .)and a younger piece.
I was not expecting many flowers this year and when one bloomed, I was figured I came out ahead. And then this happened-- this is the plant today: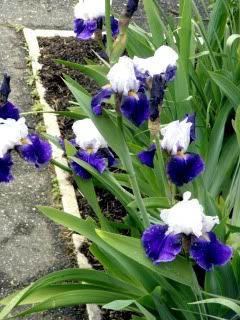 It just seems so much happier, if a plant can be described as happy. And so am I.
I'm gonna say it was six years ago when I planted on iris bulb in the bed below my bay window. Even though it grew and spread the year it was planted and the next year too, I didn't get a flower until the third year. And then it went nuts. It grew and spread and grew until irises were laying on the asphalt in front of the bed and were being stepped on.